Bienvenue en France
Welcome in nature
Causses Cevennes Gorges Monts
causses-cevennes.com
S. Central Massif - France



Active, creative holiday
Art & culture
B & B-Chambres d'hôte-guestrooms, guesttable
B & B-Gîtes d'étape/meals
Campsites
Craftsmen, enterprises, smallbuiss.
Holiday cottages
Holiday cottages group
Holiday resorts
Home
Hotel-restaurants, auberges
Regional products
Real estate
Riding/donkeys
Sports in nature
Tourist offices
Touristic sites
region diverse :
Architecture
Fauna, flora, landsc.
Geology
Hiking
History
Old postcards
Links
Maps roads/comm.
Tourism
Weather forecast



Cevennes National Park
& unesco region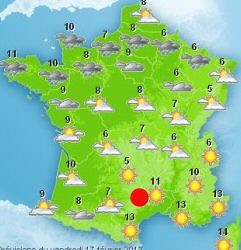 North (ex-)
Languedoc Roussillon


OCCITANIE
Pyrénées - Méditerrannée
France
agenda365.fr cevennes cultural activities
Cevennes National Parks nature festival


Old Postal cards of :



Florac
Ispagnac
La Malène
Le Pont de Montvert
Le Rozier
Les Vignes
Mende
Meyrueis
Montbrun
Ste Enimie
St. Germain de Calberte
Quezac
Portraits





causses-cevennes.com

Cevennes produce Regional products
Le Pélardon




Pelardon (AOC/AOP)

Lozère

GAEC Dumas
La Bastide
48370 St Germain de Calberte
04 66 45 90 33
e-mail : gaecdumas@wanadoo.fr


AUFOUR Philippe
Le Tronc
48220 SAINT MAURICE DE VENTALON
04 66 45 83 04



Gard

LE SARALIER/GAEC (FAYET Jean)
30460 LASALLE
04 66 85 24 68





The Pélardon, a small goats cheese, has its origins in the mountains of the Cévennes.The goat herds (usually small in number) are found, for the main part, on the rough steep slopes of these mountains.

The Pélardon has travelled throughout time without any change to its history.

Today's method of producfion respects old traditions. collected and transferred into curds each day. It is then form its traditional shape.


Fromages de chèvres

Lozère


Fromages de chèvres
La Ferme des Passadoires
Agriculture biologique
Cécile Urrusty
48330 St Etienne Vallée Française
04 66 31 74 06
The Cévennes is a mountainous region in the south of France blessed with luxurious vegetation and a strong personality. It has retained this natural and beautiful environment until today.
These mountains have a long and rich history especially concerning the farming industry. This industry has transformed its domestic products of quality with a distinctive character.
Two thousand years ago Mr Pline l'Ancien, a famous Roman writer, wrote that cheese from this region was well appreciated on the tables of Rome.

In the woods and on the natural plains, the goats of this region graze on a diet of natural grasses and pure mountain air. As a result of this they produce a milk of quality which is rich of taste.

It is a regional product based on traditional 'know-how' and the fruits of this privileged land: the Pélardon
cheese is made from raw milk and moulded in a traditional way.
To mature this cheese, it must be regularly tumed to help reach its point of perfection. Again, this is done in a traditional way - by hand.
This traditional process, which starts with quality mountain milk, results in a cheese of fine texture and with a rich savoury taste.
Today, tradition is enhanced by rigorous hygiene controls with the farmers and going right the way through to product. Not a day of production goes by without the control being exercised.
A final quality check is done - by hand- to select only the best cheeses which are then wrapped and sent to be enjoyed on the tables of the world.
How to appreciate this famous cheese ?
Fresh - with its soft texture and light salted taste, it offers a cheese for the lovers of light food.
Semi-hard - covered in a light white skin, it presents a creamy character with a nutty taste and melts in the mouth. At this point it is at its best for 'gourmet' usage.
Hard - it confirms its full character. Its mature covering gives it a stronger taste which is appreciated by the connaisseur.
Appropriate wine: red "coteaux du Languedoc " or dry white wine
---